Discover more from Sree's Sunday Note
A newsletter about digital media, our analog world, and where they meet. Tech, social and life tips from Sree Sreenivasan. Sree is the co-founder of Digimentors and former Chief Digital Officer of NYC, the Met Museum and Columbia U
Over 8,000 subscribers
I've had it with the term "The Media"
Let's dispel with this egregious disservice to real, credible journalism.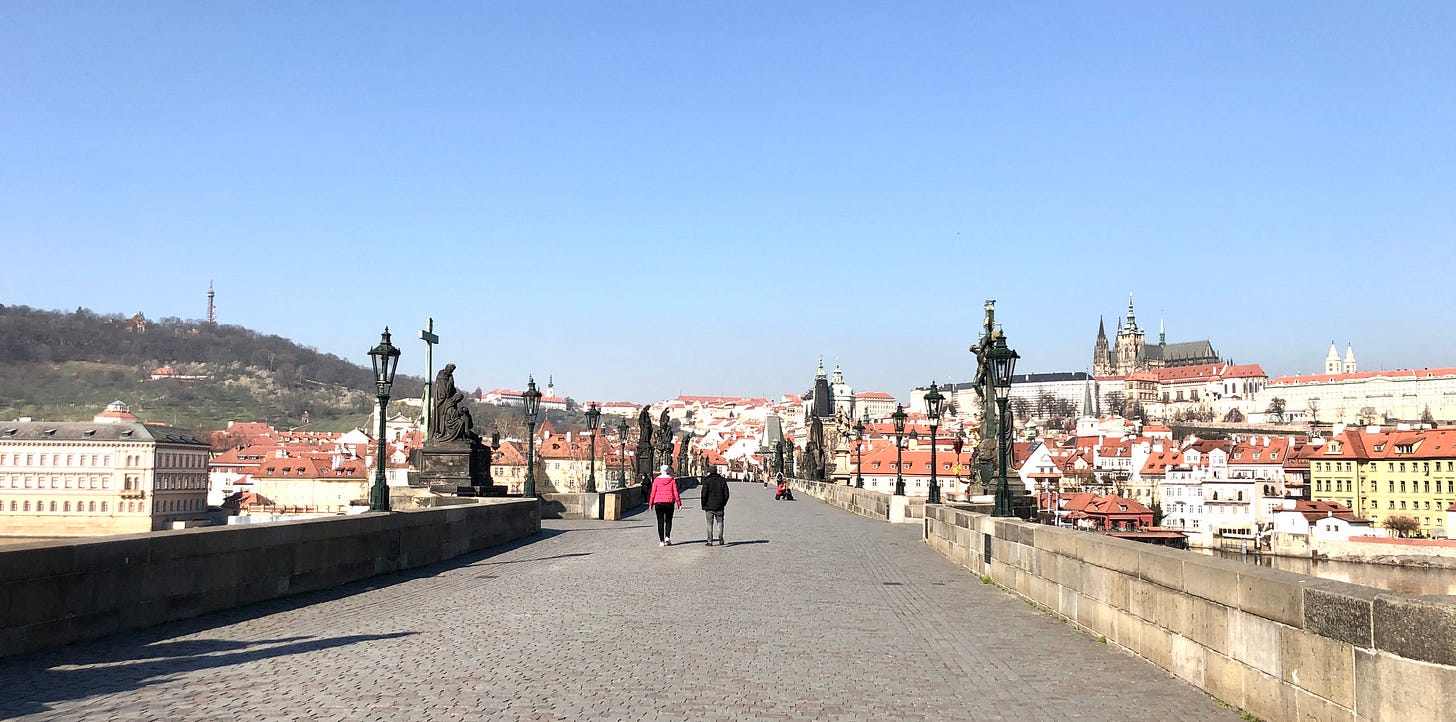 This edition was produced with Zach Peterson (@zachprague), who took this photo of an empty Charles Bridge in Prague last week.
Scroll down for News You Can Use, Watch Something, Listen to Something, and my Sunday NYT Readalong w/ Harlan Coben(!) - you don't want to miss it.
The best way to know when I'm on the air, and see all my archived Covid19 shows, is to subscribe to my YouTube channel.
***
Being news-literate has become a life-and-death proposition, and it's high time to hold Fox News, and Rupert Murdoch's wider media empire, to account.
There are any number of specific criticisms to lay on Fox News's doorstep for its role in degrading trust in news over the last two decades, but I think the problem is easily distilled in the most general of terms.
For years, Fox News - and the Fox News Extended Universe (FNEU) of regular contributors and hangers-on - has peddled in "media bias", "the liberal media", and worse. Now, the COVID-19 pandemic is laying bare, in real-time, the dire consequences of the conservative media's consistent attacks on legitimate news. This is all done under the guise of somehow not being part of "the media" - which is really something, considering Fox News is a ratings monster relative to the competition. If having the two top-rated primetime cable news shows doesn't make you part of "The Media", nothing does.
Take it from Kara Swisher's (@karaswisher) mother. Kara's NYT column last week was all about her mother's journey with Fox News and the COVID-19 pandemic:
Her primary source of news is Fox. In those days she was telling me that the Covid-19 threat was overblown by the mainstream news media (note, her daughter is in the media). She told me that it wasn't going to be that big a deal. She told me that it was just like the flu.

And, she added, it was more likely that the Democrats were using the virus to score political points. And, did I know, by the way, that Joe Biden was addled?
There's a non-zero chance this sounds familiar to you. Of, course, Fox changed its tune and has been sounding the alarms on the severity of the outbreak for a few days now. But, the damage has been done. Kara's mom saw the light, that's for sure:
She read up. She looked at my charts. She stopped thinking so magically. And, most of all, she decided she wanted a lot more ice cream sundaes.

"Are they crazy? That's crazy," she said. "I am not dying for anyone."
To get the full scope of Fox News's sharp turn-around on COVID-19, it doesn't get much more damning than this video from The Daily Show (note the constant refrain of "the media"):
"The media" means a lot of things that are happening all at once. Usually, when a member of the FNEU attacks "the media", they are really attacking other pundits who are on the other side of an issue. The line will be, "The media, once again, is out to get the president," or something similar (it's always the same) - but then it's followed by a clip from a show like Morning Joe, or an excerpt from an opinion piece. The show itself is fine, and sure the commentary may be worth reading, but neither are acts of journalism.
Sometimes it's important to see what's not there. What you never (or, very rarely) see is an attack on "the media" that attacks a detailed, well-reported item. COVID-19, again, provides the perfect example. A quick search on the NYT and Washington Post sites reveal a trove of reporting dating back to early January on the coronavirus. The NYT's ace health reporter Donald G. McNeil Jr. wrote a piece on January 24 about the potential of a mask shortage for medical (and non-medical) personnel. The day before, The Washington Post ran a video titled, "How the new coronavirus compares to Ebola, Zika and SARS". Both outlets - and countless others - were reporting on this from the very start. They did so reliably, without alarm, and it was all right there for us to read, watch, and listen to.
This is journalism.
And yet, in the off chance that a regular Fox News viewer even saw any of this reporting, it's unlikely they believed it. This report from the (indispensable) Pew Research Center says it all: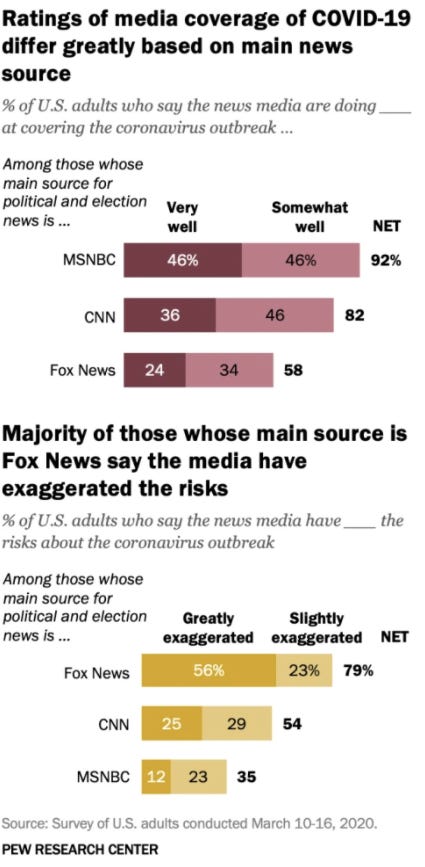 How many lives has this information nihilism cost us here in the United States? How many will it cost us? It's undeniable that people who count Fox News as their main news source had been wildly misinformed up until just a few days ago about the COVID-19 threat - and myriad times before that.
The fact is that words matter. And even the act of framing polling about "attitudes towards the news" as "attitudes towards the media" plays a role here. My challenge to you is this: When you see an obvious bad-faith broadside against "the media", try to engage the person who posts it. Be constructive. Point out the facts. Use legitimate, reliable, trustworthy sources. And, defend those sources. Defend your process for arriving at informed conclusion. Here's a good guide - my former Columbia Journalism School colleague Prof. Todd Gitlin, and a host of distinguished journalism professors, have signed an open letter to Rupert and Lachlan Murdoch. Have a look.
Subject matter expertise has never been more important, and we need to hold ourselves to a higher standard of information literacy. Let's work to clean up the increasingly-sloppy ways we discuss incredibly important issues. Starting with the facts strikes me as prudent.
- Sree
---
---
News You Can Use
🩺 Ming Lin was recently fired from his job as an emergency room physician in Bellingham, WA, for speaking out about the lack of protective measures available to health care workers. Imagine running a hospital right now and deciding that firing a 17-year veteran like Mr. Lin is something you should do today. Read more from Ron Judd (@roncjudd) at The Seattle Times.
📖 Independent bookstores have collectively been in a precarious position for the last decade. Now, with most of the US under lockdown, they are really under a lot of pressure. Alex Lauer (@alexlauer) at InsideHook has the story of Bookstore, a new online bookseller aimed at keeping the book-selling business going.
🌴 <change of pace warning> So, it turns out that Antarctica was once home to a lush rainforest. Scientists have discovered that as "recently" as 90 million years ago, the icy continent had a jungle that somehow survived despite being plunged into darkness for months at a time. Read more from Becky Ferreira at Vice.
---
---
Watch Something
Every day, I host a free, open-to-the-public COVID19 call with guests from all over the world and all walks of life. Medical experts, psychologists, everyday people adjusting as you are, and even the occasional "celebrity" (loosely-defined!). Tune in on any platform, join us, and find a new community! Last week I had Prof. Yuen Kwok-Yung, from University of Hong Kong, on the show to talk about masks, infectiousness, and the many other things only an expert microbiologist can answer. And please subscribe to my YouTube channel so you know when I'm live each day.
---
Listen to Something
The 538 Politics Podcast is always pretty good, but I especially like when they mix it up with a themed show that is off the daily politics beat. This episode with senior science writer Maggie Koerth (@maggiekb1) and quantitative editor Laura Bronner (@laurabronner) is absolutely crucial to understanding all of the data and projections you're seeing thrown around. Basically, it's very very difficult to say anything definitive about the next 6-12 months. Very very interesting - please listen! The episode is available here and on all major podcast platforms.
---
Odds & Ends
🗞 My Sunday #NYTReadalong, executive produced by Neil Parekh (@neilparekh): Every Sunday I read the print edition of the NYT live. This week, our guest is the #1 New York Times bestselling author, Harlan Coben (@HarlanCoben). Coben has more than 75 million books in print worldwide, and is the author of numerous suspense novels, including "The Boy from the Woods", which is #1 on the NYT Best Seller in this week's print edition. He is also the creator of Netflix originals The Stranger and Safe.
Click here to watch on Facebook at 8:30am ET / 12:30pm GMT / 6pm IST.
Next week (April 12), our guest will be Andrew Hacker, author of "Downfall: The Demise of President and His Party," which predicts that President Trump will not be re-elected.
The Sunday #NYTReadalong is sponsored by Muck Rack, Strategy Focused Group, and TweepsMap.
🎧 NEW! Every Saturday, I host a call-in show on WBAI 99.5 (@wbai) - "Coping with Covid19" - focused on being helpful, hopeful, and focusing on the pandemic's effects on society's most vulnerable - workers, the poor, the marginalized - and talk to ordinary citizens & experts on how we can emerge stronger.
Listen live from 12-2pm EST, or later. And, of course, call in or tweet questions for us using the #wbaisree hashtag! HERE'S EPISODE #1.
👀 Did we miss anything? Make a mistake? Do you have an idea for anything we're up to? Let us know!