We can re-open America, but we can't do it like this
As a country, we have not done the heavy-lifting required to end lockdowns.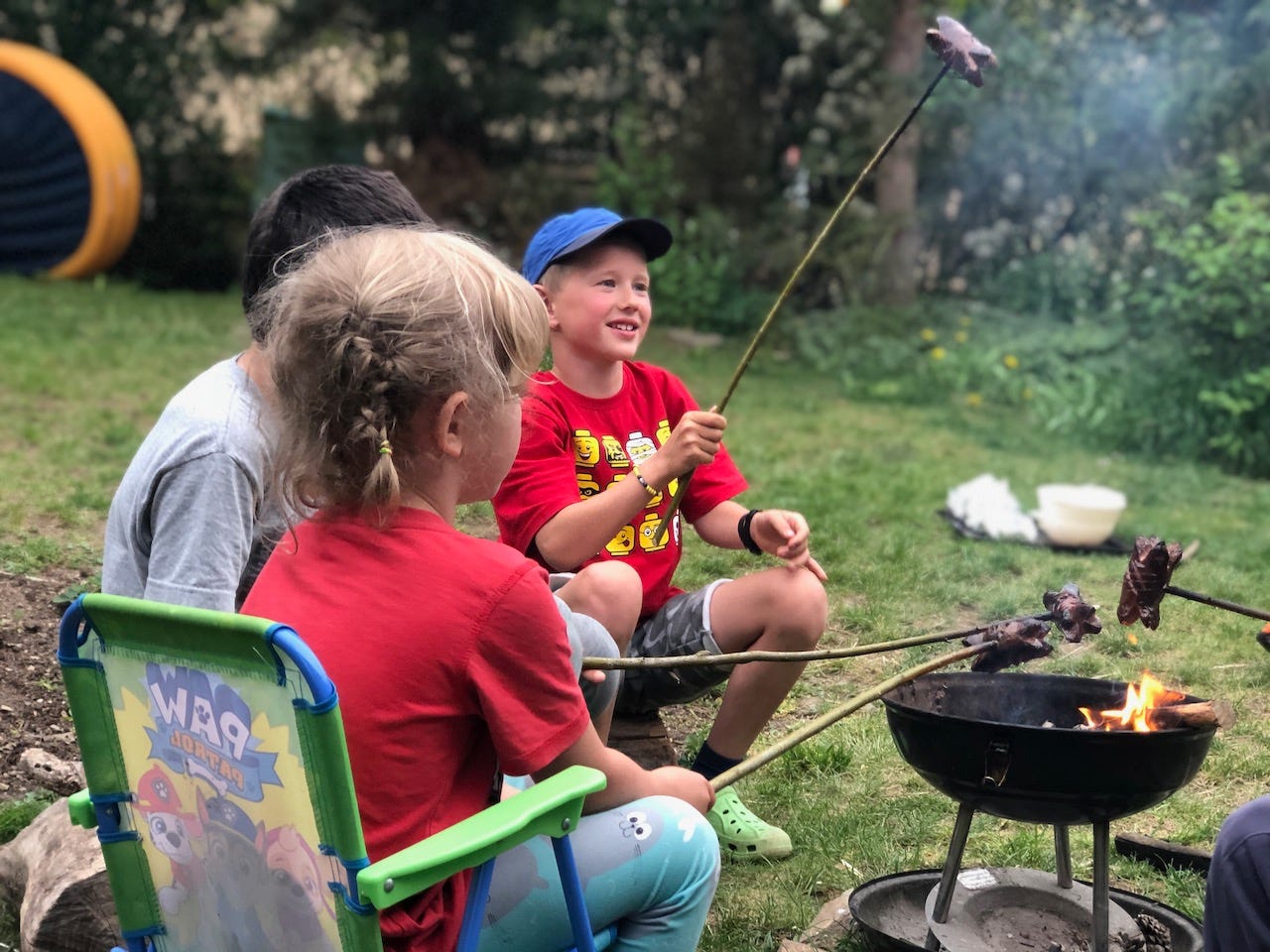 This edition was produced with Zach Peterson (@zachprague). Zach took this picture of his son, daughter, and friends roasting sausages over the fire this weekend(!) in Prague.
Scroll down for Read Something, Watch Something, Listen to Something, and my Sunday NYT Readalong w/ Micheline Maynard.
The best way to know when I'm on the air, and see all my archived Covid19 shows, is to subscribe to my YouTube channel.
My team is working with companies and nonprofits around the world to create virtual events. We can help you, too.
***
After two months of lockdown in New York City, I can safely say that I do not feel like we are anywhere close to re-opening and returning to "normal" life. Even if restrictions are lifted and businesses are allowed to re-open, there's no telling when people will feel safe enough to return to something of a pre-Covid19 lifestyle.
What's becoming clear is that there is a path to re-opening society, and there are several emerging examples of exactly how to do it. South Korea and Taiwan have inarguably been models of how to manage Covid19, but Europe is also beginning to re-emerge from lockdown as well.
My Sunday Note co-producer Zach is an American who's lived in Prague for more than 12 years. Emergency measures are being relaxed and businesses, schools, and most other aspects of society are starting to re-open in the Czech Republic after nearly three months of lockdown. In fact, he and his family had guests over for grilling and revelry this weekend for the first time in what he says felt like years, and the effect was profound - both for him and his family, and for me. Just hearing the relief is his voice was enough to be inspired.
From Zach:
It was really something! Our friends came over with their two kids - our kids' best friends - and we grilled and had a fire and just got to hang out, in-person, with people we like. Of course, all we talked about was homeschooling, slow descents into parental madness, and how the last three months have made the next 12 or so pretty unpredictable.

When they left, I was struck by how great it was to just casually hang out with friends. Video calls and Zoom get-togethers are great, but the fact is that our digital world makes it incredibly easy to talk, to follow life events, and other great things, but it certainly is no stand-in for tactile, real-life connections. We were only able to do all of this because Czechs really stepped up - they made masks, they distanced from others, they largely obeyed lockdown orders.

The government was clear and decisive early. It was certainly not without error or fault of course, but in relative terms, the Czech government more than outperformed the median in terms of Covid19 responses globally. A few weeks later, here we were, in our garden with our friends. All of this makes what's happening back home in America so hard to watch.
Watching armed terrorists - and that's what those men are, terrorists - storm the statehouse in Michigan was a stark indicator of just where American society stands on the enlightenment scale. The same people who call others "snowflakes" for being politically correct are now marching on state capitol buildings with AR-15s, sniper rifles, and Confederate flags in-hand demanding greater access to hairdressers and tattoo parlors. This is the only place in the world where something like this is happening and, frankly, the idea of life returning to anything like "normal" here seems a distant, far-off dream.
Back to the Czech Republic - how did they and their neighbors get it so right? Turns out, all it takes is a firm federal response, masks, enforced social-distancing, and - and this is a big one - the willing participation of people to simply care about their fellow humans, listen to expert guidance, and actually be locked down.
As this FT report notes, swift government action was key:
"The virus came to central Europe later, but they also used this time better," Olga Loblova, a public health researcher at Cambridge University, said. "There wasn't any of the misguided exceptionalism we saw in the UK. No one [in CEE] looked at Italy and said: that would never happen to us."

The speed with which these restrictions on mass events were introduced was one of the most important reasons for CEE's relative success, said Martin McKee, professor of European Public Health at the London School of Hygiene and Tropical Medicine.
Talking to Zach, and seeing pictures and reports from other countries emerging from the crisis, it's hard to feel optimistic about our near-term future here in America. Testing and contact tracing are still lagging far behind countries like Germany and South Korea, and our piecemeal, state-by-state approach strikes me as a recipe for a long, long crisis.
If we, as a society, are unwilling to buck up and actually do our part, we'll be spending Thanksgiving, Christmas, and many more holidays to come gathered around the video conference, not the dinner table.
- Sree
---
---
Read Something
🏠 There can be little doubt that the Covid19 pandemic has shown just how possible it is for people to work from home. But, that doesn't mean it's always the ideal situation, and for parents who have become part-time teachers, maybe a couple of days at the office are just what the doctor ordered. Work-life balance has just become…life - great reporting from Michelle F. Davis (@MichelleF_Davis) and Jeff Green (@JeffAGreen). Read it @ Bloomberg.
🌎 The Covid19 pandemic has been - and continues to be - life-altering for nearly every person on the planet. But, as Harvard's Dani Rodrik (@rodrikdani) points out, the response at the political level has been (depressingly) predictable. No thinking person thought Donald Trump would respond well to a real crisis. There were no illusions about the authoritarian bent of Victor Orban, Narendra Modi, and others. If anything, this crisis shows just how important it is to repudiate these people and do everything we can to get them out of power. Read it @ Project Syndicate
💡 Whether as distraction or out of necessity, there's never been a better time for creativity. Kyle Chayka (@chaykak) has a great review of Jerry Saltz's (@jerrysaltz) new book, "How to Be an Artist", that really makes it feel like more than just a book - it's an outlet. Read it @ The New Republic.
---
Watch Something
Expert, rational, experienced leadership is in high demand, and few can speak to those things like Richard R. Verma (@RichardRVerma). He served as U.S. Ambassador to India from 2014-2017, where he is credited for the historic deepening of bilateral ties. Ambassador Verma recently joined my Daily Covid19 Show to discuss his 25 years of experience across senior levels of business, law, diplomacy, and the military - and what the world looks like after the pandemic.
---
Listen to Something
PBS Frontline documentaries never fail to deliver in quality and impact. They started a podcast series that goes deep into America's Covid19 response - the failures, the successes, and everything in between - as only Frontline can. I highly recommend every episode, but the one comparing Washington State's response to Washington, DC's response is a great place to start. Listen here or on all major podcast platforms. So proud that the head of Frontline, Executive Producer Raney Aronson (@raneyaronson) is a friend and former Columbia Journalism School student.
---
---
🗞 My Sunday #NYTReadalong, executive produced by Neil Parekh (@neilparekh):  Every Sunday I read the print edition of the NYT live. This week, my  guest is Micheline Maynard, an experienced journalist, author, broadcaster and educator. She is a regular contributor to Forbes, runs a crowdfunded journalism project (Curbing Cars), and was the award-winning Detroit bureau chief and senior business correspondent for The New York Times. 
Watch Live at 8:30am ET / 12:30pm GMT / 6pm IST or Later:
Facebook | LinkedIn | YouTube |  Twitter
SAVE THE DATE (May 10): We will host a special Mother's Day edition of the #NYTReadalong. For this week, we're offering a special sponsorship opportunity; thank your mother on air, with half the proceeds to go to charity. Click here for details.
The Sunday #NYTReadalong is sponsored by Strategy Focused Group and Muck Rack. Interested in sponsorship opportunities? Email: sree@sreenet; neil@neilparekh.org.
🎧 NEW! Every Saturday, I host a call-in show on WBAI 99.5FM (@wbai) - "Coping with Covid19" - focused on being helpful, hopeful, and focusing on the pandemic's effects on society's most vulnerable - workers, the poor, the marginalized - and talk to ordinary citizens & experts on how we can emerge stronger.
Listen live Saturdays from 12-2pm EST, or later. And, of course, call in or tweet questions for us using the #wbaisree hashtag! Listen to an early episode here!
👀 Did we miss anything? Make a mistake? Do you have an idea for anything we're up to? Let us know!